21st ESFH Congress (European Society for Hemapheresis)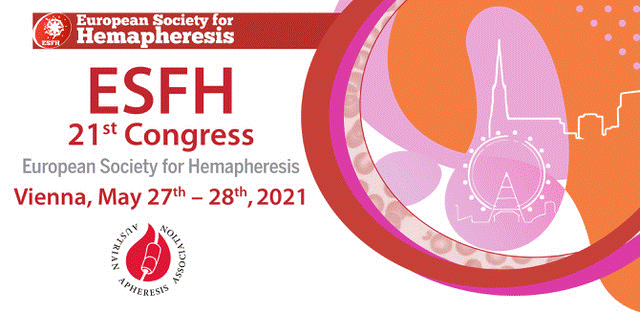 We are pleased to announce the upcoming meeting of the European Society for Hemapheresis which will be held from May 27th to 28th, 2021 in Vienna.  It will take place in "Parkhotel Schönbrunn", a famous location near the Schönbrunn castle.
We will welcome keynote lectures in novel indications of  therapeutic hemapheresis. C-reactive protein (CRP) adsorption in severe inflammatory organ damage will be addressed as well as specific immunoadsorption treatments in a variety of disorders. Further topics included in this meeting are the collection, generation and use of CAR-T cells, a novel and promising approach in cancer therapy, new indications and treatment protocols in extracorporeal photopheresis.  This meeting will also cover relevant topics of transfusion medicine like safety of blood components. Application of pathogen inactivation methods for all products is a requirement.
Apheresis donation is essential for blood component production. The technical improvement in apheresis facilitates the blood component collection and provides a high level of safety for our donors and recipients.
Last but not least a goal of this meeting is the support and education of young scientists and individuals working in this field. Thus there will be a possibility to join the pre-meeting on the day before.
We are looking forward to welcoming you in Vienna, besides the scientific program you have the option to relax in the garden of Schönbrunn castle or the zoo nearby.